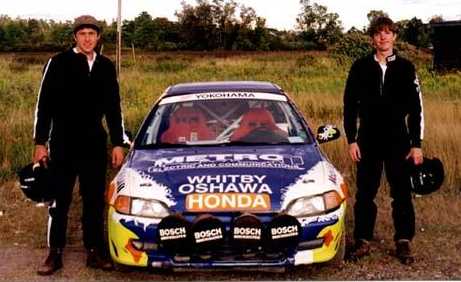 ATR Racing 1999 Team Profile
---
ATR Racing was created in 1998 to compete in Professional Rallies. This year we will be competing in the Ontario Rally Series by campaigning the 1993 Honda Civic Dx hatchback that won the 1998 Ontario and Canadian Rally Championship Production 1750 class.
Driver:
Andrew Miller, 23, lives in Brooklyn, NY. Andrew has been driving competitively in various motorsports for 5 years, having started by autocrossing in the family sedan. Since then he has moved up to faster cars and now seeks to make his mark on the Professional Rally scene. This is his first year competing in the Ontario Rally Series.
Codriver:
Tom Mahoney, 23, lives in Orchard Park, NY. Tom first competed with Andrew in a TSD rally and has been hooked ever since. This is his first year competing in the Ontario Rally Series.
Crew:
Richard DelRegno, Peter Miller
The crew makes sure that the car is ready to race and is at each event ready to go. They also have the task of making sure the car survives each race, a tall order considering the length and difficulty of most races.
Sponsors:
Metro Electric and Communications, Buffalo, NY - The leading supplier of industrial electric and communication solutions in the western New York and southern Ontario regions.
Cheap Books Online - The name says it all. Affordable books, music, and movies available online.
Contact ATR Racing:
E-mail: andrewjmiller@yahoo.com
Visit the ATR Racing Website: ATRRacing.com
---