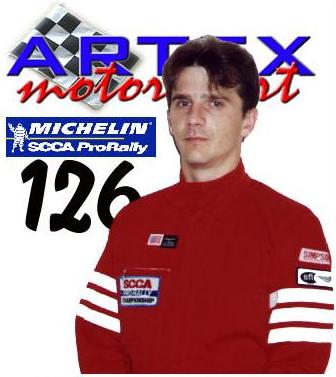 Biography Arthur Wojcik
Middle Village, New York
Driver, Artex Motorsport Rally Team
#126 Open Class Mitsubishi Galant GSX Turbo
---
Arthur Wojcik started driving rally cars in 1995 after he built his first rally car, an U2 class Ford Escort GT. That year he entered three rallies, finishing two of them in fifth place with one DNF. In the following year Arthur competed in seven events and claimed fifth place in the 1996 SCCA SUPER DIVISIONAL CHAMPIONSHIP UNDER 2 CLASS and fifth place in the 1996 SCCA NORTHEAST DIVISIONAL CHAMPIONSHIP.
At the end of the 1996 season, Arthur built a more competitive Open class Mitsubishi Galant GSX to replace the Escort. Despite a lack of horsepower (135 vs 350+) compared to other Open class cars, Arthur managed to produce a couple of impressive finishes, including third in class in the prestigious Rally Auto Charlevoix and first in the Mead Winter Rally. In 1997, after entering only two MICHELIN/SCCA PRO RALLY events, he finished a respectable 11th in the year end standings.
Due to lack of time and work commitments, Arthur entered only three events in 1998 and concentrated on upgrading the car with a more powerful turbocharged engine. Currently he's a class leader with one first place and one third place finish, with the goal of winning the 1999 NORTHEAST DIVISION CHAMPIONSHIP.
Career Highlights
Date
Event
Location
Place
07/1995
Maine Forest Rally
Rumford, ME
DNF (did not finish)
10/1995
Apple Hill Rally
Middleburgh, NY
5th/U2 class
12/1995
Seven Islands Rally
Rumford, ME
5th/U2 class
02/1996
Bridgehampton Rally
Long Island, NY
3rd/U2 class
10/1997
Rally Auto Charlevoix
Quebec, Canada
3rd/Open class
12/1997
Maine Forest Winter Rally
Rumford, ME
4th/Open class
12/1997
Mead Rally
Rumford, ME
1st/Open class
07/1998
Maine Forest Rally
Rumford, ME
DNF
05/1999
STPR Rally
Wellsboro, PA
8th/Open class
05/1999
Sherwood Forest Rally
Wellsboro, PA
1st/Open class
05/1999
Finger Lakes Rally
Wellsboro, PA
3rd/Open class
Arthur Wojcik is 32 and currently resides in Middle Village, New York with his wife Marrzena and two daughters Katherine 8 and Nicole 3. He works for a major telecommunication company and also operates a small race/rally shop.
For more information on Artex Motorsport Rally Team contact Arthur at:
Phone: 917-602-1690
E-mail: artex@iname.com
or check out Artex Motorsport Rally Team on the web at http://artex.cjb.net
---
Teams Index
RRN Index