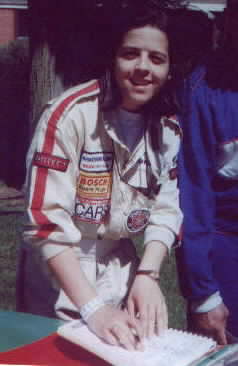 Biography Belen Arrieta
Alexandria, Virginia
Co-Driver, Arrieta Motorsports
---
Belen, 24, immigrated to the United States from the Basque Region of Spain in 1987 and settled with her family in the Washington, DC area. She joined Arrieta's Auto Repair, Inc. in Clinton, Maryland in 1993 as Corporate Treasurer and General Manager. Belen is bi-lingual in English and Spanish, and also has some fluency with the French language.
Helping her brother, Carlos, Jr., construct a 1983 VW Rabbit for competition in SCCA's ITB Class, she crewed for that car during the 1993-94 season at SCCA's Summit Point race track in West Virginia. She most recently managed finances for the construction of the team's 1984 Audi Quattro and 1986 SAAB 900.
She attended RallyRight ProRally schools in Morris, PA in 1996, 1997 and 1999. She's also benefitted from the very excellent co-driver seminar presented by Mark Williams of Williams Rallying.
Belen obtained her National license at the RallyRight School in Morris, PA on 8 May 1999. While there, she co-drove for her brother in the Audi, finishing second in Open class and fourth Overall. That's quite an accomplishment for a novice co-driver! She next co-drove with her father, Carlos, Sr., in the Audi at STPR '99 and will continue in the Audi for the remaining 1999 National events, both in the US and Canada.
For more information on Arrieta Motorsports, contact Belen at:
E-mail: barr431738@aol.com
or check out Arrieta Motorsports on the web at http://users.aol.com/rallymech/home/pages/main.htm
---
Teams Index
RRN Index