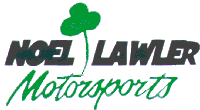 BIOGRAPHY
Charlie Bradley, a native of Ireland, started rallying 17 years ago and set a precedent by winning the co-driver's championship in his first season in the 1983 Donegal Rally Championship. In 1984 he went on to win the title again and competed in the Donegal International Rally, taking first in the Production 1300 class. He took second for co-drivers in the 1985 Donegal Rally Championship before moving to the U.S.
Bradley linked up with driver Noel Lawler in 1990 and took second in the Northeast Production GT Rally Championship. In 1991 Bradley and Lawler won the Divisional Production GT Championship and placed third in the National Production GT Championship. Bradley was fourth overall in the country in the co-driver's championship that year.
With other drivers, Bradley won the top co-driver's title in the Northeast Rally Championship in 1993. Then in 1995, Bradley co-drove for Bruce Newey in the last season for Group A in the U.S. They clinched the SCCA Pro Rally Group A National Championship and Bradley took home the U.S. Group A Pro Rally Co-Driver's Championship.
For three seasons Bradley and Lawler have been rallying with Libra Racing which is run by rally legend, John Buffum, who has won 11 U.S. Championships. Bradley/Lawler currently compete in the Hyundai Tiburon which won the Manufacturer's Cup and Overall Championship in 1997.
In 1998 Bradley and Lawler took third overall in the Pennsylvania rally, took second overall in the Maine rally, won the Arizona rally, and finished the season with a second place finish at the Michigan rally. Their strong results won the Manufacturer's Cup for Hyundai and enabled them to win second place overall in the driver's and co-driver's national championships.
In international competition, they competed in the prestigious Shell Donegal International Rally, part of the Irish Tarmac Championship, and an international rally in Jamaica. They won third place in Group N and 11th place overall in the Donegal Harvest Rally, part of the Red Mills National Championship.
With just three events left in the season, he and Lawler are leading the championship by 23 points with a first place finish in Washington, a second in Pennsylvania, a third in Maine and a fourth overall in California. They are sponsored by Cargotec, a heavy equipment manufacturer; Pirelli Tire North America; Hyundai Motor America; Hansen's Beverage, makers of Energy Drink; Hella International and Snap-on Tools.
Now 40 years old, Bradley owns and operates a busy landscaping business. He and his wife, Mary and two daughters, Felicia and Courtney, live in Ardmore, Pennsylvania.
For further information, contact Noel Lawler Motorsports at: 1-888-GO-RALLY
Visit their website at: www.noellawlermotorsports.com
---
Teams Index
RRN Index