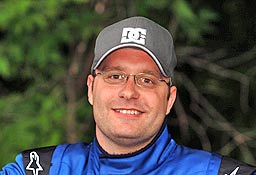 Biography
Christian Edstrom
Co-Driver, Subaru Rally Team USA
New York, New York
---
2005- Rally America National series competitor
1998-2004 SCCA National series competitor
2nd OA co-driver in 2003 with Lauchlin O'Sullivan
---
I am currently running the Rally America National Series with Travis Pastrana as part of Subaru Rally Team USA. We compete in a 2006 Subaru Impreza WRX STi in the Open class.
I met Bill Malik when I was shopping around for a Volvo 240 wagon. I crewed for Bill in 1997 and started co-driving the following year. My first rally was the 1998 Wild West Rally in Olympia, Washington. Bill, thanks for getting me into the sport! Since then I've had the pleasure of sitting with Bill Malik, Mark Nelson, Steve Gingras, Lauchlin O'Sullivan, Pat Richard, Otis Dimiters, Ken Block, and Travis Pastrana.
I grew up in Sweden where rallying is very popular. When I'm not rallying I work as a management consultant for Deloitte Consulting. I'm also a keen cyclist and motorcyclist.
Current sponsors include: Subaru of America, DC Shoes, Vermont SportsCar, PIAA, Motul and Recaro.
My website is www.christianedstrom.com
Christian can be reached at: christian@christianedstrom.com
---
Teams Index
RRN Index