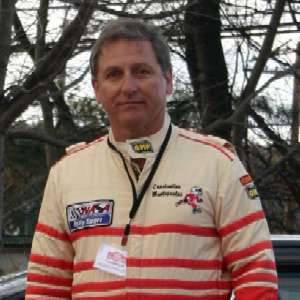 Biography Constantine Mantopoulos
Staten Island, New York
Quattromotion Racing
---
Racing Accomplishments/Highlights:
2009 3rd Prod 2wd Co-driver - NY Rally Championship
2008 2nd in Prod Cup AWD Co-driver - NY Rally Championship
2007 5th overall Co-driver - NY Rally Championship
2005 1st Overall Winner - Driver - AMEC "Ice Trials"
2004 Champion Open Class Co-driver - Eastern States Rally Championship
2004 1st Overall Winner - Driver - AMEC "Ice Trials"
1998 Rallycross Champion Driver - Northeast Rallycross Championship
1997 SCCA - Rally Worker-of-the-Year
1997 3rd Overall Driver - "Super Divisional East"
1996 2nd Overall Driver - Northeast Division Championship
1995 PGT Co-driver Champion - North American Championship
1994 3rd in PGT - SCCA National Championship - Co-driver
1993 First Driver Win - Bridgehampton (NY) Divisional Rally
1992 First Co-driver Win - Sawmill Rally (PA)
---
I was born and raised in Australia and fortunate to witness the 'London to Sydney Marathon' in 1968 which was a huge rage down-under. After seeing Andrew Cowan charge through the "bush" in his Hillman Hunter, another rally fan was born! Soon after, our family moved to Greece where rally is very popular and I saw my first World Rally event – the 'Acropolis Rally'. The following year I went to college in England…which was rally heaven for all. For the next four years I attended the 'RAC' rally and saw legends at work, and in the making. The rally "virus" was consuming me and while back in Greece, I met and conversed for a while with the then-famous, world-class Sandro Munari one night during lengthy repairs to his damaged Fiat 131 Abarth. After that encounter I knew I had to...and wanted to be involved with rally someday.
That day came in America in 1989 when someone informed me about a popular rally school and rally at Ski-Sawmill, Morris, PA. Without hesitation, I immediately made plans to go there and enter the school. A few weeks later, an opportunity arose to co-drive at the "Sunriser 400" national Pro-Rally in Ohio. There I had my first successful rally experience and instantly became addicted – despite a very eventful and lonely 45th overall finish. By 1992 I would record the first of many wins as a co-driver and in 1993 I acquired an Audi 200 Quattro rally car and shortly thereafter recorded my first rally win as a driver.
Over the past 20 years I have switched sides in rally cars many times. Naturally I prefer to drive, and have performed respectably well - having recorded 4 overall wins in Divisional (or Club) rallies, numerous class victories and/or high placings, one Rallycross Championship, some Rallysprint victories, and more recently some huge wins on the frozen lakes against many veteran ice-racers. Most of my successes were at the wheel of an Audi Quattro.
As a co-driver however, I have had even more successes…clinching the 1995 North American Championship in the P-GT class with driver Selcuk Karamanoglou and the 2004 Eastern States Rally Championship in Open class with driver Scott Gardner. Many other wins and high placings came as well with many talented drivers with whom I was honored to team-up with.
In 1998, I decided to combine my hobby with my profession and established "Quattromotion LLC" – an automobile repair center in Newark, NJ. What began as an independent VW/Audi/Porsche service center, quickly evolved into a successful rally-car preparation facility. We built, serviced and rented numerous rally cars for both novice and experienced rally teams.
Always conscious of the sport's needs in general, I decided to give back a little to the sport that I love and enjoy so much. I worked at several rallies in different capacities, instructed at the Rally-Right Rally School and was elected as chairman of the New York Region Rally Board during 2000-2001. In 1997, a colleague and I were instrumental in reviving Rallycross in the US and making it a recognizable and sanctioned sport again. Since 1997, I have organized or co-organized over 25 events. Most notably, in 2000 I organized the first and very successful "Irish Hills Club Rally" - better known today as "International Rally New York".
I am very fortunate to be part of this distinctive, challenging and exciting sport. My family has supported me over the years as I developed my racing skills and performed the art of extreme driving. My association with rally sports has afforded me with travel to remote and exotic locations in several countries and introduced me to many great people. My passion for racing and rally sports compels me to remain involved in many capacities as demonstrated above. I have no plans to stop competing, planning or working in rally sports. I'm extremely honored to be amid so many great people in rally and pleased to be part of this unique and fantastic community!
---
---
Constantine can be reached at:
Home: 718-494-8794
Business: 718-721-4400
Cell: 917-733-9665
E-mail: QTRM@aol.com
---
Teams Index
RRN Index