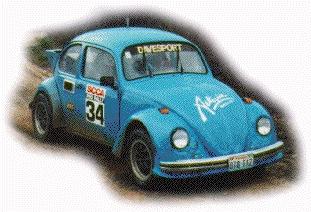 Biography Dave LaTourette, Driver
North Bend, Washington
---
I crewed for a team that ran the 1986 Olympus WRC in Washington state. After seeing Group B rally cars in action, I knew what I had to do!
I've run local divisionals off and on for a few years, and I'm now building a new car and hope to begin running some west coast nationals with help from sponsors Bow-Wow Auto Parts and Davesport.
My existing car is a 1966 VW Bug which, around the Pacific Northwest forests, is affectionately known as "Herbie from Hell." I race 4wd Open class. The Bug has a 2733cc type IV VW engine that is turbocharged. The transaxle is a heavily modified 091 bus unit. The car is all-wheel drive with inboard coil-over front suspension. I'm currently building a VW New Beetle rally car that is all-wheel drive and should debut this summer.
I'm married and have three children (all girls!). I'm the manager of a Seattle area VW performance/accessory shop, and I love making and racing unique cars.
For more information, see my web page at www.davesport.com
Contact Dave at:
Phone: 425-888-5833
E-mail: dave@davesport.com
---