Biography Diane Sargent
Co-driver Saginaw, Minnesota
---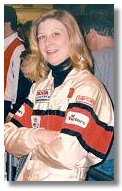 Diane Sargent's career in rallying began when she ran a local TSD event with a co-worker about 20 years ago. A couple of years later she got her first experience at Performance rallies when she navigated for Randy Jokela on the 1982 Ojibwe Rally, several years before it became a Divisional ClubRally.
Her first ProRally ride came in Ray Hoeper's Datsun 510 at the 1985 LacVieux Desert Divisional in Michigan. The team was leading overall, but broke near the end and did not finish.
The following year she became co-driver for Carl Kieranen's Mazda RX7,and the team took the 1986 Central Division ClubRally Championship. That title netted Diane the 1986 Land O' Lakes Region Navigator of the Year Award. Another highlight for the team was winning the Open Class at the very snowy 1988 Press On Regardless ProRally. They qualified for the Divisional Runoffs in 1986 and 1989.
During 1997 and 1998, she handled co-driving chores for Craig Kazmierczak of Ann Arbor, Michigan, in another RX7. The highlight of the'97 season was finishing second in class O2 and 2nd overall at Magnum Opus ClubRally in Michigan. They placed 2nd in class O2 in CenDiv points for 1997.
The 1998 season did not go quite as well. They DNFed at all three National ProRallies entered. At the Headwaters ClubRally in ParkRapids, Minnesota, they had a serious off. Thankfully, there were no injuries. Following a wiring failure that put them out of the Ojibwe ProRally in Minnesota, the team went on to a first in O2 at Paul Bunyan's Ride ClubRally the following day. An accident on the first stage at Lake Superior ProRally resulted in another DNF there, but the car was repaired overnight and the team went on to finish 2nd in O2 behind Utecht/Corneliusen in the Auto Value Keweenaw Challenge ClubRally.
Diane is employed by WDIO television in Duluth (and WIRT, Hibbing) as Traffic Manager. She raises chickens at the 32-acre farm near Saginaw, Minnesota that she shares with Tim Winker, two dogs (Viggen and Porter)and three cats (Tasha, Ellie and Guibo). An accomplished pianist, Diane has been active in the Duluth Playhouse community theater, providing the music for "The Fantastiks," "Cinderella," "Joseph and the Amazing Technicolor Dreamcoat," "Brigadoon," "Pump Boys and Dinettes," and most recently "Chess". An avid bowler, her team took the league championship in 1998.
While her motorsports activities consist primarily of co-driving in SCCA Pro rallies and navigating on TSD rallies, Diane has also driven in autocrosses and karts. She took a one-day performance driving school taught by Skip Barber Racing School at the 1998 Saab Owners National Convention. When not rallying, she remains active in motorsports in other ways, acting as crew, doing timing or keeping lap charts at road and ice races, and has helped build and paint cars for several forms of competition. She has also acted as team manager and driver for her employer's Arthritis Foundation Mini Grand Prix kart team.
On TSD rallies, Diane often navigates for her "spouse equivalent", Tim Winker. Together they have taken many first place awards, including the 1994 Great River Road Rally for vintage cars, and the Wisconsin Port-To-Port Tour that same year.
Diane looks forward to the challenge of working as part of the top-running Mayhem Racing ProRally team in 1999. She brings many seasons of ProRally experience, which should help the team to remain competitive.
---
Teams Index
RRN Index