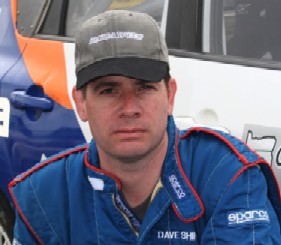 Biography David Shindle,
Co-Driver
Alexandria, Virginia
---
Dave Shindle's involvement in rallying began before his birth. His father, Warren Shindle, had a successful career rallying Porsche, Renault and Jaguars in the US during the 1950s and 60s throughout the eastern US. Growing up, David's interest in cars flourished and he was building and restoring them before he was old enough to drive. Upon graduation from college he purchased a Lancia Scorpion and through researching Lancia's involvement with the World Rally Championship, he learned about performance rallying. It was while looking for a shop to install a rollcage in a hillclimb car he was building that he discovered that performance rallying existed in the US and Canada.
In 1999 he attended the Team O'Neil Car Control Center ProRally Licensing School where he obtained a National license. Dave also attended a codriver's seminar taught by veteran codriver Mark Williams and was tutored on pace noting by Mark.
He began ClubRallying with Nui Srisook in 1999 and into the 2000 season in a Mazda RX7. He entered the first ProRally of the 2000 season and competed in 6 others with various drivers.
In 2001 he had three top 10 National rally finishes finishing 9th overall at Rally de Quebec, and 7th overall at both Baie Des Chaluers and Rally of the Tall Pines. He won 1st overall at each Ocoee Stages ClubRally, Hiwassee Stages ClubRally, Swift Rapids Rally and the Tall Pines regional rally. Dave also placed 2nd at both Ski Sawmill ClubRally and Tarmac Express ClubRally, 3rd at Black Bear Rally and 4th at both Black River Stages and Rally New York. He won both Open class and PGT class 2001 NEDiv ClubRally championships, the first time any competitor has one two classes in a single season.
In 2002, he had 4 National podium finishes codriving for Andrew Comie-Picard and Jon Nichols in Mitsubishi Evos and Subaru WRXs respectively. Dave won the Canadian National Open class championship as well as the Ontario Overall and Open class codriver's championships.
2003 was another championship year winning the Canadian Gr2 National championship codriving VWs for Jon Nichols and Gord Olsen, won the SCCA Nediv Gr2 championship and was on the Pacific Forest Rally podium in a Gr2 car.
In 2003 & 2004, Dave prepared Jemba stagenotes for US rallies after being trained by Arne Johansson and codrove for the factory supported Toyota of Canada. 2005 thru 2007 he codrove for the MazdaUSA/MazdaSpeed rally team scoring 2wd class wins and in 2007 scored class win with Honda Research Americas. He also finished 2nd overall in the 2006 Rally of the Tall Pines codriving an Open class Subaru.
Dave's career as a manager at a large Mercedes/Porsche/Audi/Aston Martin dealership keeps his mathematical and organizational skills keen between rallies. His love of the outdoors and Bachelor's degree in Natural Resource Management taught him how to get around on a map and the navigational skills essential to codrivers. In 1986, Dave backpacked 2100 miles from Georgia to Maine along the Appalachian Trail where each day logistics and orientation were crucial to his progress. His mechanical knowledge developed through years of building, modifying and restoring classic and race cars has proved useful when car problems arise during a rally. He also enjoys mountain-biking, hiking and whitewater canoeing.
Dave resides in Alexandria, VA with his former codriver wife, Belen Arrieta and son, Dave Jr.. They are best contacted at DCRallyDave@yahoo.com
---
Teams Index
RRN Index