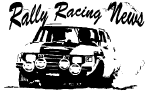 Bio Information Form
---
Please fill out a form for each team member and another for the car specs, as appropriate. Take a look at some of the other bios to get an idea of the kind of information we're looking for.
The form will take as much input as you give it so you can add more than one contact number to a single input field or in the case of the "Rally Experience" "How I Got Started", etc. fields, the text will move off screen; you can use the scroll bars to see what you wrote.
Tip: You can load a "text file" into the form!
Make a file of bio information for the form on your computer, save it as a text file, then you can copy parts to the clipboard and paste to the appropriate fields in the form.
We would like to include photos of all of the drivers, co-drivers and cars. This is optional. Don't wait to send your bio just because you don't have photos. You can e-mail them if available or send me a copy and I'll scan them for you. If you include a SASE envelope, I'll even return them.
Mail photos to:

Ed Brennan
110 Armour Avenue
Trenton, NJ 08619
---
---
Teams Index
RRN Index