Biography Greg Pachman
Warner-Robbins, GA

---
Greg Pachman was born in New York City and raised in Scotch Plains, New Jersey. As a teenager, he worked with racehorses in the hope of becoming a jockey. After growing too tall, he started working as a go-fer for a Super-Vee racing team and Skip Barber Racing School
In 1983, he entered Emory University in Atlanta, Georgia. While at Emory, he started flying lessons and attained Commercial and Instrument ratings. He graduated from Emory in 1987 and spent a year covering politics and crime for the Fayette County News in Georgia. As a writer, has been published in both newspapers and magazines, most notably as a motorsports writer for Scripps-Howard News Service and the Times-Record News. In 1988, he started working as a ferry pilot, picking up and delivering civilian aircraft, for Van Bortel Aircraft in Arlington, Texas. He was selected for AirForce pilot training in 1989.
He received his pilot wings at Vance AFB, Oklahoma, in March 1991 and spent four years flying F-16 A/B/C/D aircraft in the air defense role at bases all over the east coast. From 1995 to 2001 he was an AT-38B light attack instructor pilot at Sheppard AFB, Texas. He currently is assigned to Headquarters Air Force Reserve Command at Robins AFB in Georgia as Deputy Aviation Director of the AEF Cell.
"Off-road racing is long distance endurance racing over desert conditions. They're 20 to 30 hours over some pretty harsh terrain. There's a lot of holes and jumps and keeping the car under control can be a quite a challenge." Major Pachman has been a member of the Air Force Reserve since 1998, and along the way has discovered many similarities to racing. "When I'm racing, I think only of racing. Anything else happening is kept separate." That focus is a skill he gained from flying. There are so many variables involved in racing a car and maintaining it, you just have to trust that the team has done its job and drive. The strategy and science behind racing are as interesting to Major Pachman as the actual races. He has raced and won in everything from stock cars, to rally cars, to go-carts. His favorite part of racing is not unlike completing a mission in the Air Force Reserve. He gets a rush out of putting a team together and going for it.
In addition to his off road racing, his present Pro Rally activities are campaigning a G2 VW Golf in the SCCA ProRally and ClubRally series.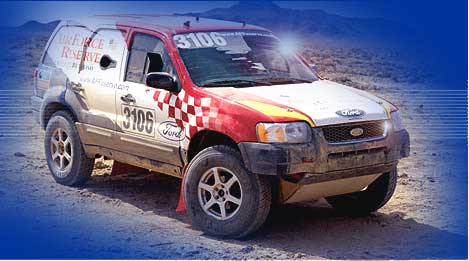 Greg can be contacted at:
E-mail: gpachman@hotmail.com
---
Teams Index
RRN Index