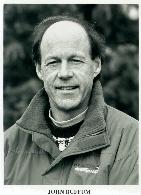 Biography John Buffum
COLCHESTER, VERMONT
Owner, Libra Racing
---
Most successful U.S. Rally driver ever - 11 national titles and 108 victories
Was SCCA PRO Rally series manager 1988-92
1994-5 President of the American Rally Association
Car owner of current champion Hyundai Tiburon entry
Owner, Libra Racing
---
In 1964, when a fraternity brother at Middlebury College convinced John Buffum to navigate a time-speed-distance rally with him in a borrowed MGA, the most famous rally career in U.S. motorsports was born.
Buffum married Vicki Gauntlett in 1966, and she was his co-driver in TSD events, including a 10th that year in the Press on Regardless event in a Mini-Cooper. In 1967, Buffum co-drove for Tim Gold - also in a Mini - to a win in the New England Winter Rally.
After graduating from college and enlisting in the Army as a mechanical engineer, Buffum was sent to Germany as a second lieutenant in a bridge-building company of the Corps of Engineers. It was there that he saw all-out, World Rallying for the first time, and bought a Porsche 911T to compete in both regional and international rallies. In 1969, he drove to a 12th place finish at Monte Carlo, sharing the driving chores with American roadracer Steve "Yogi" Behr.
The sport of PRO Rally did not exist in the U.S. when Buffum returned fromEurope in 1970, and since the speed sensation he had experienced in Europe did not exist in TSD events, Buffum tried his hand at IMSA and SCCA roadracing. Buffum formed his own racing company - Libra Racing - and competed both in a Mini Cooper and an English Ford Escort. He shared the driving cockpit with the likes of George Follmer, Steve Behr and Brett Lunger -and had some top 10 finishes in a BMW CSL, but didn't have the budget (or the right car - which was a Porsche Carrera RSR at the time) to crack the winner's circle.
By the mid-70's, performance rallying was taking roots in the U.S., and, despite the fact that John and Vicki divorced in 1974, they stayed together as a rally team. They started together in a Porsche in 1975, but it was 1976 that proved to be the pivotal year. The pair won two U.S. rallies and a Canadian event, sweeping to the NARRA national championship, and being edged out of the SCCA championship by Hendrik Blok/Erick Hauge. It was during this period when Buffum's driving style started to mature, as he went from the reckless mode which earned him the nickname "Stuff'em Buffum" to his championship mode.
Buffum became known for his ability to take charge of the ever-changing conditions of a rally course, his photographic memory of roads and turns, and his ability to drive with abandon to post the fastest time, but with enough competition sense to finish the event.
For four years starting in 1977, Buffum drove factory Triumph TR-7s and TR-8s, and picked up Doug Shepherd as a co-driver. The pair dominated both the SCCA PRO Rally series and the North America Rally Championship until British Leyland dropped out of racing in the U.S. In 1981, they tried running Audi 80 and Peugeot 504 racers, but could not keep up with Rod Millen's factory Mazda RX-7 rally entries.
In 1982, however, when Audi supplied Buffum and Shepherd with its new Audi Quattro racers, they were unstoppable. Millen would get a faster RX-7, and Buffum would counter with Quattro A2, then a Sport Quattro and up the ante again. He would also rally occasionally in Europe, where, in 1983, he became the first and only American to win a European Championship event (1983 Sachs Rally in Germany and the 1984 ERC event in Cyprus).
With Doug Shepherd moving into a factory driver's role with Dodge, Buffum hired veteran co-driver Tom Grimshaw, and the pair won back-to-back-to-back championships, including their 1987 undefeated season. During this period, Buffum became the winniest performance rallying driver ever world wide, with his 104 national championship wins far surpassing anyone else. He retired after that year, and became SCCA PRO Rally series manager, helping the sport maintain its stature through some lean years.
He still drives an occasional rally, however, having won several Canadian events and subbing (and winning) the Wild West PRO Rally in Olympia, Wash. in 1993 when regular driver (and step-son) Paul Choiniere couldn't make it to the event. He also subbed and won for Choiniere at the '94 Lake Superior PRO Rally. Buffum and veteran co-driver Mark Williams shaved more than two hours off the record while winning the Rally of Incas in Peru - in Choiniere's old Audi S-2 - in September, 1995.
Choiniere, who became part of Buffum's family when his mother, Mary, married John in 1980, has won the SCCA PRO Rally series four of the past five years in a Buffum-prepared Audi Quattro S-2.
Buffum is a car builder and preparer (for Choiniere's new Hyundai Tiburon Open class rally car) as well as immediate past-president of the American Rally Association, which handled the field administration and rules for theSCCA/Michelin PRO Rally series for 1994 and 1995. He also has risen to prominance recently as an event organizer, as the Maine Forest Rally became the first event in the U.S. to run a stage through a downtown area.
---
Teams Index
Maine Index
RRN Index