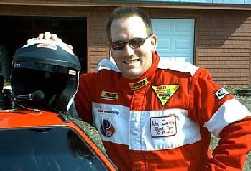 Biography John Cassidy,
Team Owner and Driver
Last Ditch Racing
Bangor, Maine
---
I first got involved in rallying after seeing the WRC on Speedvision via satellite. I knew I had to race, and soon found that Maine had a rally event already - Maine Forest!
I sourced a Honda CRX and started building a rally car. Not knowing what or how to do it, I turned to the internet and found some great websites and helpful rallyists to help answer my questions. The car took shape and is a constant work in progress.
I am 33, a native of Bangor, Maine and currently work as a Physician Assistant at Sunbury Primary Care/Penobscot Community Health Center. I enjoy music as well as my motorcycles, Land Rovers and Unimog.
A word of thanks to my loving wife, Sharon and my two sons, John and Cullen. A big thank-you to my good friend Pete Matthewson, who has also built a CRX rally car.
Last Ditch Racing is currently preparing for Ski Sawmill and plans on attending Maine Forest this year. Last year, we were the only Maine team in the field and were pleased to finish both the Mead and Seven Islands ClubRallies.
For pictures and more information on the team and car, please visit Last Ditch Racing's website at: http://www.lastditchracing.net
I can be reached by e-mail at: rovah@mint.net
---
Teams Index
RRN Index