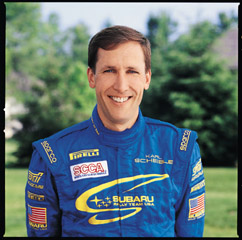 Biography Karl Scheible, Driver
Subaru Rally Team USA
Spencerport, New York
---
Karl has been involved in Rallying his entire life. Karl's mother, Patricia Scheible, competed in rallies while pregnant with Karl! Karl's father, Wayne Scheible, started Karl in Pro Rally first as a worker and then later on as a navigator. Karl's first Pro Rally as a driver was in his father's Volvo turbo, which he borrowed from his father to run the race. Karl won seed 6, a class designated for first time competitors. Karl rallied on a part time basis for several years eventually dropping out of the sport to concentrate on his business and instructing high performance Porsche driving at Walkins Glenn Racetrack.
In 1999 Karl decided to contest the entire SCCA Pro Rally Series with an unusual racecar, a VW New Beetle. Karl raced this car in the Production class, which is a class that allows very little modifications other than safety requirements. Karl won the SCCA Production class Championship, and along with victories in Canada, Karl became the North American Production Class Champion. VW produced an often seen commercial that featured this car as the "cute car" racing through the woods to victory.
For the 2000 season Karl campaigned a Mitsubishi Evo 5 in a privately funded program. Karl won the SCCA Group N class championship and also won two races outright, a first in North America for a Group N class car. Altogether Karl competed in 9 SCCA races and in 2 Canadian events finishing consistently high enough to win the overall North American Driver's Championship.
In 2001 Subaru of North America formed Subaru Rally Team USA and chose Karl as one of the team drivers. Karl has been racing the new 2002 Subaru WRX and is currently leading the 2001 Group N class championship with 2 class victories. In the most recent race, the Susquehannock Trail Pro Rally, Karl not only won group N, but also finished 3rd overall out of 90 cars.
Competition Summary:
1999 SCCA Production Class Driver's Champion
1999 North American Production Class Driver's Champion
1999 SCCA Finger Lakes Region Driver of the Year
2000 SCCA Group N Champion (2nd in overall championship)
2000 Overall North American Driver's Champion
2000 SCCA Finger Lakes Region Driver of the Year
2001 Current Group N Driver's Championship points leader
Related Web Pages:
www.rally.subaru.com
www.scca.org

Contact Karl at:
(716)-512-1246
E-mail: kuattro@aol.com
---