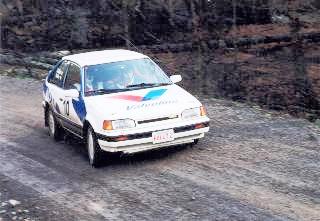 Biography Valvoline Team Eire
Andover, Massachusetts
Driver: Marty Allen
Co-Driver: Stew Allen

Marty Allen & Stew Allen, Ski Sawmill ClubRally 1999 - Peter Watt Photo
---
Valvoline Team Eire will be competing in the 1999 Northeast Division SCCA ClubRally Championship and will repeat the same championship next season. Results from this season so far had the team finish fourth in class at Ski Sawmill. Valvoline Team Eire did not compete in STPR '99 due to the large number of entries, however they did bring their Mazda all the way from Boston just to display the car and to give media rides.
While living in Naas, Co. Kildare, Ireland, the family experienced the thrill of motorsports just a few miles from their home at the only purpose-built motorsports facility in Ireland, Mondello Park. There they were introduced to many types of auto racing such as Touring Cars, Open Wheel racing, and the exciting sport of European Rallycross. They attended many of the major rallys in Ireland and the UK such as the Circuit of Ireland Rally, the Galway International Rally, the RAC Rally, and many others. After watching such cars as Porsche 911's, Audi Quattros, and Metro 6R4's and great rally drivers such as McRae, Vatanen, and Sainz, they immediately fell in love with the sport.
There was a long drought of rallys for them when they moved to the United States in 1986. They did not attend another rally until they arrived at the Maine Forest Winter Rally in 1996. Through the help of people like Lance Smith, Tim O'Neil, and fellow countrymen Noel Lawler, Charlie Bradley, and especially Frank Cunningham, they purchased and prepared a Mazda 323 GTX for the 1999 Northeast ClubRally Championship.
Team Eire's sponsors include:
VALVOLINE NORTH AMERICA
Through on-going business relations, Valvoline North America offered financial assistance to this progressive young team as an incentive for them to continue in the sport. A spokesperson for Valvoline indicated that their involvement with this team does not necessarely indicate an on-going involvement in US rallying.
AVPRO OUTDOOR ADVERTISING
This family-run business which is based just north of Boston specializes in special types of outdoor media such as Aerial Advertising and projected lighting. The company is run by team manager Martin Allen Sr.
Mazda North America
Marty's hobbies include mountain biking, flying planes, snowboarding, and the other adventure sport of chasing the ladies. Marty will be attending college in Waterford, Ireland starting September 1999 to study business and maybe pick up a few ladies. He is hoping to continue his studies in Finland and Sweden where he can better his driving abilites and learn cool Swedish and Finnish stuff as well.
Stew's hobbies include music, scuba diving, skiing, and also ladies. Stew is a senoir at North Andover High School where he is in the process of learning world languages, preparing himself for his life as a World Rally Championship co-driver. If Stew decides to ever go to a University, he will study advertsing and marketing and maybe go into a career in Motorsports and get himself and his brother some really nice sponsorship money.
The car is a 1988 Mazda 323 GTX with AWD. The engine is a 1.6 DOHC Turbo. With the exception of safety modifications, the car remains essentially stock as it competes in the Production GT class.
For further information, contact Valvoline Team Eire
Phone: (978)688-1400
Fax: (978)688-1414
E-Mail: Marty at: RallyIre@aol.com or Stew at: FiaRally@aol.com
Valvoline Team Eire Website
---
Teams Index
RRN Index