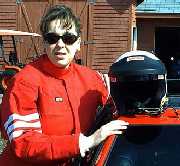 Biography Maygen McCarty, Co-Driver
Last Ditch Racing
Palermo, Maine
---
Maygen McCarty, 21, has been involved in rallying since 1994. She attended the Maine Forest that year with her parents, Mike and Sheila, and was bit by the rally bug. After seeing Carl Merrill have a substantial "off," she was hooked...
She then participated in all subsequent Maine Forest events, helping with timing. Wanting to get inside a rally car, she contacted John Cassidy in the winter of 2001. Full of enthusiam, and finding the co-driver position vacant for 2001, she got the ride!
She is currently enrolled in a Dental Hygiene program in Bangor, Maine and works two jobs in addition. She WILL find time to rally, however!
Last Ditch Racing is currently preparing for Ski Sawmill and plans on attending Maine Forest this year. Last year, we were the only Maine team in the field and were pleased to finish both the Mead and Seven Islands Club Rallies.
For pictures and more information on the team and car, please visit Last Ditch Racing's website at: http://members.mint.net/rovah/lastditch.html
Meygan can be reached by e-mail at: maygenm@palermo.org
---
Teams Index
RRN Index