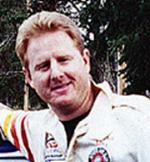 Biography MICHAEL L. WHITMAN II
FARMINGTON, NM
92 Ford Sierra RS Cosworth
---
1995 SEASON RESULTS, 4TH GROUP 2
Rim of the World, 3rd Group 2
1996 SEASON RESULTS, GROUP 2 CHAMPION
Rim of the World: 1st Group 2, 7th O/A
STPR: 1st Group 2, 7th O/A
Maine Forest: 1st Group 2, 7th O/A
Ojbwe: 1st Group 2, 7th O/A
Sunriser: 1st Group 2, 7th O/A
Lake Superior: 1st Group 2, 7th O/A
---
At the age of 13, Michael began racing motorcycles in the deserts of Southern California, and it has been an ongoing love affair with motorsports ever since. While in high school he chanced on a car with big, bright, lights on the front and was hooked. This was the first time he had seen a rally car. He began his assault on rallying in 1977 and was very successful at the local level with his first Datsun 510 in the California Rally Series.
In 1979 Mike took a hiatus from rallying and attended the prestigious Embry-Riddle Aeronautical University and received his BS in Aeronautical Science with commercial pilots certificate in 1982. He currently flies for America West Express Airlines.
Returning to rallying he won top honors in the California Rally Series Stock Class for 3 consecutive years from 1983 to 1985. In 1984 he also won the SCCA Southern Pacific Division Championship which put him into contention for the National Divisional Championship - an invitational for the winners of each divisional championship in the country. That year was the inaugural event of that type and Mike took home the top honors.
From 1986 to 1990 there was another hiatus from rallying as he concentrated on his career. During this period although not able to rally, he returned to motorcycle racing, winning the New Mexico Desert Racing Association's Over-30 Expert Class in 1989, placing 2nd in 1990. This demonstrates his ability to prevail in more than one motorsporting arena. In 1990 however,the pull was too strong and he bought, once again, a 510, the sister car to the car he and his first co-driver built in 1978. Returning to the scene he ran at the divisional level from 1991 to 1993.
In 1993 the second National/Divisional Championship came his way making him the only person to have taken that top honor twice. Michael then set his sites on the National Level Group 2 Championship and began his attack in 1994. Although he did well, financial considerations ended his hopes for that year. Several class wins meant that he wound up 4th in class for the series even though he had only run half of the season.
In 1996 he returned to the fray and emerged conclusively as the winner in Group 2 and as a genuine adversary even to those in much higher horsepower classes, many of whom he bested repeatedly.
With the Ford Sierra RS, he is currently contesting the SCCA National Open Class, the premiere class of the series. Mike's Sierra was built in England in 1992 and has competed in several world cup events. The Ford pedigree combined with Mike's talent as a driver makes for a potent combination on the American rally scene.
With the exception of an electrical DNF at Ojibwe, the Mike Whitman/Paula Gibeault entry finished in the top five in all the events they entered in 1998 - Washington, Pensylvania, Maine, Arizona and Michigan.
---
Teams Index
RRN Index