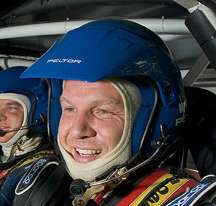 Biography Mark Williams
(The Other One)
Driver
Ridgefield, Connecticut
---
The 2007 season has been my first season in rally after over a decade of rallyracing in Europe.
I raced in several European Rallycross classes starting off (as all Englishmen should) in a Mini and finishing in a fire-breathing, 500hp Ford Escort WRC that shot from 0-60mph in around 2.5 seconds.
However, having moved to the US and then to Canada (and now back to the US) in my work for General Electric (I am currently the Global Cards Leader for GE Money), I had to "retire" from the European scene.
Having found an old Mini on eBay, I entered a couple of rallycross events in Canada for fun and met James Drake (co-driver) and decided to buy a rally car. After much searching I decided on the ex Subaru Team Canada/Tom McGeer Subaru Impreza.
A 4th overall (1st Novice) on the Black Bear Rally was followed by the same result on the Galway Cavendish Forest Rally. I was very encouraged by the pace on Rallye Defi before sliding off the road.
I am committed to a full Canadian Championship in 2008 with several forays into the US on Rally America and NASA events.
I am very thankful and proud of my sponsors - DST Output, cleanairpass and Gary Numan.
For more information contact Mark at:
E-mail: rallyxmark@aol.com
Visit the website at: http://www.williamsrallyracing.com
---
Teams Index
RRN Index