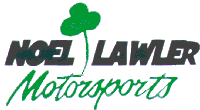 BIOGRAPHY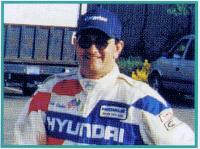 Noel Lawler, an Irish native, has been hooked on rallying since he saw his first rally at the age of seven. He started competing in Ireland in 1987.
In his first rally season in the U.S., with co-driver Charlie Bradley, he won more than half of the 18 rallies they entered in Production GT (Group N spec) driving a Mazda 323, including five top three finishes overall. He was second in the 1990 Northeast Production GT Championship and was leading the class overall in 1991 when his car was burned. He ended up taking first place in the 1991 Divisional Production GT Championship, and third in the National Production GT Rally Championship.
Without a rally car, Lawler went into road racing. In 1990, he placed first in Sedan Class in the One Lap of America (Cannonball Run). He also took on the field at Watkins Glen in 1990 in a Hella-sponsored Mazda RX-7 with a respectable finish. He competed in the IMSA Firehawk Series from 1990-93, driving for Craig Conway's Mitsubishi 3000 GT Team out of Daytona. He entered the Sebring 12-hour event from 1992-94, with his best finish a third in class in 1993. He drove for Morris Motorsport in the IMSA Super Car Series in 1994-95 in a Lotus Esprit and Porsche 911 RSR, with a fifth as his best finish.
In 1996 Lawler went back to rallying and was in second place overall when the engine blew in the Mitsubishi Galant VR4 two stages from the end of the Maine Forest rally. In 1997, Lawler/Bradley entered two events with the 1996 championship car, the Hyundai Elantra prepared by John Buffum's Libra Racing.
In 1998, their best season to date, Lawler and Bradley took second place overall in the U.S. Pro Rally Championship and secured the Manufacturer's Cup for Hyundai. They accomplished this while entering only half of the eight National events in the series. They posted one win, two second place finishes and a third.
They also competed internationally, challenging the competitive Shell Donegal International Rally, part of the Irish Tarmac Championship, as well as an international rally in Jamaica. In the Donegal Harvest Rally, part of the Red Mills National Championship, they took third place in Group N and 11th place overall.
In 1999 they are racing a Hyundai Tiburon with a team of sponsors including Cargotec, a heavy equipment manufacturer; Pirelli Tire North America; Hyundai Motor America; Hansen's Beverage, makers of Energy Drink; Hella International and Snap-on Tools. They are currently leading the 1999 championship by 23 points with a first in Washington, and second in Pennsylvania, a third in Maine and a fourth in California.
Lawler, 36, works as a project manager for one of the largest construction companies in Vermont. He and his wife Darcey have three children and live in Manchester, Vermont.
For further information, contact Noel Lawler Motorsports at: 1-888-GO-RALLY
Visit their website at: www.noellawlermotorsports.com
---
Teams Index
RRN Index