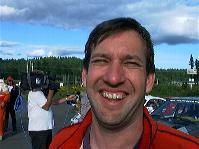 Biography Paul "Pablo" Eklund
Primitive Racing
TIGARD, OREGON
---
Key Driving Accomplishments:
2000 - Won ALCAN 5000 Winter Rally with R.Dale Kraushaar and Larry Richardson
1999 - Oregon Region Most Inspirational Driver Award (first by a non-roadracer in the Region)
1999 - SCCA SOLO II National Champion in E-Stock (medium sedan) driving Toyota Celica GT
1998 - SCCA Co-Driver National Champion in Production GT (Group N equivalent) in Subaru Impreza
1998 - SCCA SOLO II National Champion in E-Stock (medium sedan) driving Toyota Celica GT
1997 - 3rd Place E-Stock SOLO II National Championships driving Toyota Celica GT
1996 - 3rd Place E-Stock SOLO II National Championships driving Toyota Celica GT
1996 - Larison Rock Hillclimb - First in E-Stock and set record time for the class driving Honda CRX
1995 - 5th Place E-Stock SOLO II National Championships driving Toyota Celica GT
1995 - Oregon Region SOLO II Driver of the Year
1994 - 3rd Place E-Stock SOLO II National Championships driving Toyota Celica GT
1994 - Oregon Region SOLO II Driver of the Year
1993 - NORPAC Divisional Champion, E-Stock driving Honda CRX
1988 - Divisional Champion G-Stock driving Saab 900 Turbo
1985 - Spirit of Stock Class Winner (California Rally Series) driving Opel Manta
1985 - 3rd Place Stock Class Prescott Forest Rally driving Opel Manta
---
Paul has been a member of the SCCA since about 1983. He began his motorsports career in an Alfa Romeo Spyder and was quickly competing in autocross and PRO Rally events. He jumped into the co-driver's seat for a blast at the Reno International Rally in the early 80's, but predominately competed in divisional-level rallies driving his trusty Opel Manta.
In 1984, Paul rolled his first car--a prepared Datsun 610 in a street autocross! He didn't roll the Opel until 1987 (and that was twice in the same event!) As the saying goes, "There are only two kinds of rallyists - those who have rolled and those who are going to." He approached the sport with gusto. Later Paul became Regional Executive of the Arizona Border Region and sanctioned most of the California Rally Series events such as East of Indio, Rim of the World and High Desert Trails.
By the later 1980's he still campaigned an Opel Ascona and had switched to a Saab 900 Turbo for his autocross and TSD rallies. He has currently competed in well over 200 autocross and rally events -- that's a lot of race weekends!
In 1988 Paul moved to Portland, Oregon and moved his hobbies with him. The Saab made way for a Honda CRX. He drove the Honda to several divisional Solo II championships and the hillclimb record at the Larison Rock Hillclimb in 1996. That record still stands.
In 1993 his last Opel met an untimely demise with a tree, and Paul took a few years off from the PRO Rally circuit.. His autocross and road race efforts intensified. Primitive Racing was formed, carrying its familiar ThunderLizard logo to represent Paul and his team effort. He has won multiple National Tour, Pro Solo, and divisional events from 1993 to present.
In 1996 Lee Shadbolt approached him with a plan to go PRO Rally racing again -- this time in an all-new Subaru Impreza -- how could he pass that up? The team finished in third place in the 1997 championship after a crash in the deserts of Arizona shortened their season. But they came back strong in 1998 and Paul won the Co-Driver National Championship in the Production GT class of the Michelin PRO Rally series!
In 1998 Paul won a second championship as well. He won the E-Stock National Championship in SCCA Solo II. This came after finishing in the top three in his four previous National Championship visits. In 1997, for example, he was a mere 89 thousandths of a second behind first place! Talk about close racing. His current autocross car is a championship-level Toyota Celica GT which has been meticulously prepared by Primitive Racing and includes BFGoodrich T/A tires, custom wheel spacers and a Supertrapp exhaust.
After co-driving for Lee Shadbolt on the Hairpin Racing team during 1997 and 1998, Paul intensified his involvement in PRO Rally and seeks a place in the World Rally series. The Primitive Racing Impreza USX was built in late 1998 and took the ProRally Series by storm starting with an impressive finish at the 1999 Rim of the World event (6th overall). At the Wild West Rally six weeks later, Paul drove to third place overall finishing behind the legendary John Buffum. The USX was improved over the summer and finished first at two regional events in Washington. The car suffered mechanical failures at the Prescott Forest Rally in September of 1999 and failed to finish.
Paul's most recent accolades are "most inspirational driver" for Oregon Region in 1999, an award not given every year, and given because of his involvement in autocross, rally and road racing. Paul won another National Solo II championship and had a strong showing in ProRally. In February of 2000, Paul and teammates R.Dale Kraushaar and Larry Richardson won the prestigious ALCAN WINTER RALLY, a 9-day 4500+ mile endurance rally with speed sections. They beat seven factory teams in a virtually stock Impreza 2.5RS sedan. Look for the Primitive Racing logo in the winner's circle in the upcoming season!
In addition to his experience as a performance driver, Paul has a proven record of being able to field a team, demonstrate professionalism in the sport-no matter the budget level, and to put together a successful season. He has contributed articles to magazines such as SportsCar, Grass Roots Motorsports and Sport Compact Car. His 1995 Celica was featured in a recent article on professional use of vinyl graphics. A strong supporter of the SCCA, Paul has served as Regional Executive, treasurer, and event organizer. In his current endeavor, Paul has incorporated Primitive Enterprises, an internet-based business providing performance parts to rallyists and Subaru enthusiasts around-the-world.
Paul, 37, is single and Controller for a $10m label manufacturer.
Car info:
Primitive Racing 1995 Subaru Impreza USX
AWD, 2.2 liter, Intercooled, Turbocharged, 230+hp, Open Class

Primitive Racing 1995 Toyota Celica GT
FWD, 2.2 liter, 134hp, Stock Class

Primitive Racing 1988 Honda CRX DX
FWD, 1.5 liter, 94hp, Stock Class


1995 Subaru Impreza USX
Primitive Racing's sponsors include:
Royal Moore Autocenter - Hillsboro, OR
T-Scandia Motors - Tigard, OR
Morrie's Subaru - Minnetonka, MN
Taylor Made Labels, Inc. - Lake Oswego, OR
R&R Racefab - Aloha, OR
Scoobysport - Essex, UK
Drummond Motorsports - Australia
Primitive Racing's 2000 Schedule:

February 11-20
ALCAN Winter Rally
Prudhoe Bay, AK
1st place overall
March 17-18
Doo Wops 3 & 4 ClubRally
Shelton, Wa
April 15-16
Oregon Trail ProRally
Tillamook, OR
May 5-7
Rim of the World ProRally
Palmdale, CA
May 18-19
Rocky Mountain Rally
Edmonton, BC
May 25-26
Big Horn Rally
Hinton, BC
June
Rose Cup Races
Portland, OR
July
Mexico Rally
TBA
July 22-23
Seattle National Tour
Bremerton, WA
July 29-30
Maine Forest Rally
Rumford, ME
August 28-29
Ojibwe Forest Rally
Bemidji, MN
September 15-16
Wild West ProRally
Olympia, WA
September 29-30
Prescott Forest Rally
Prescott, AZ
Paul can be reached at:
8425 SW Ashford Street
Tigard, OR 97224-7501
(503) 624-2139 H
(503) 699-0408 Fax
E-mail: PaulEklund@aol.com
Webpage: www.writerguy.com/primitive
---
Teams Index
RRN Index