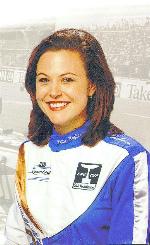 Biography Pattie Hughes
Dublin, Ohio
Co-Driver, Team Tango
---
Pattie Hughes, along with fellow PPG Pace Car Team driver Gail Truess, compete in the Production GT class in the SCCA's Michelin ProRally Series in a Paul Truess-built 1989 Mazda 323 GTX. During Pattie's first year on the circuit, she co-drove Gail, the top-ranked woman driver in the Series, to two top ten overall finishes, first a 7th overall at Ojibwe Forest and then 4th overall, first in Production GT, at the D&N Bank Lake Superior PRO Rally in Houghton, Michigan, netting her 6th place in the 1998 Production GT Co-driver's Championship. She is a second generation rallyist. Her father, Scott, may best be remembered as co-driver for Bruno Kreibich.
Pattie began her motorsports career in 1986, competing in autocrosses and high performance driving events with SCCA, BMW and Porsche. During the 1998 season, Pattie competed in the SCCA's Central Division ITS Series in a 1992 BMW 325is. Her success in BMW CCA Club Racing includes a third place overall finish in 1998, 5 top-five overall finishes and 7 class wins. She also competed in the Neon Celebrity Challenge Series in 1997 and 1998. Pattie plans to continue competing in BMW CCA Club Racing, the Women's Global GT Championship Series as well as SCCA's ITS Series along with her father.
Pattie, a member of the PPG Pace Car Team for the past three years, is also the first female driving instructor for the Mid-Ohio Driving School in Mansfield, Ohio. She also finds time to be an automotive presenter and consultant for major automobile manufacturers.
Pattie is a graduate of the Ohio State University and is currently a practicing Occupational Therapist, specializing in orthopedic injuries and hand therapy. When she is not rallying or racing, Pattie also enjoys skiing and sailing.
Pattie can be reached at: PHMSPORTS@aol.com
---
Teams Index
RRN Index