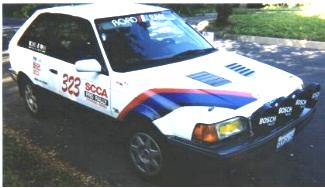 Biography Paul Timmerman
Altadena, California
Driver, 1988 Mazda 323 GTX
---
I raced bicycles on and off road since age 14, done nordic ski racing since age 18. I also had extensive experience driving in snow in both the midwest, growing up, and later in Colorado in the mid 80's, where you could find me handbrake turning up and down Bethoud Pass most weekends. I refined my control skills at Quattro Club USA events and have graduated to instructor status, after tutoring from Freddy Kotulinski, who was Michelle Mouton's driving coach. With rallycross coming to the southwest, I have become one of the top competitors in this region, setting a fastest time of the day at the first event.
I began my rally carrer midway through the 1997 season, running the California Rally Series events in Open-4wd class. My first attempts were met with disappointment as my original 323 GTX race car was tired and not well prepared. I replaced it with another 323 GTX, properly prepared by Ken Smith, then later by Road Race Engineering.
Using the new car for only two events, I have gone into second place in CRS season points. In the 98 Rim Divisional events, we a stole a 2nd the first night behind a 420 HP Quattro and earned a 4th after getting caught out in the dense fog after dark. Considering the strength of the ten car field of AWD, I am happy with these results. I also know there is more room for improvement.
Keeping up the car hopping, I plan on switching rides again this year, moving to a third 323 GTX! The Greg Lund built, full Group A spec car, should help to narrow the deficit on the faster 2.0+ liter cars. It is prepared to Group A specs using the Millen parts bin to equip the car. TAD's Murray Thomas recently refursished the drivetrain, so I am looking forward to another reliable ride. This car was instrumental in Greg's domination of Nothwestern rallying in the early 90's. The car was last compaigned by Steve Walker in Divisional events in the Northwest. It will be my first car with a true close-ratio transmission and full race motor.
In the navi seat, my wife Suzanne Martin is handling the chores. She has taken to the job with a passion and is fearless. Best of all, we both love the competition, especially beating people we aren't "supposed to".
We will be picking up King Dragon Auto clothing and parts sponsorship for the remainder of the season. This new line includes race clothing, performance parts and accessories. Servicing the car is Road Race Engineering, headed by Mike Welsh. Mike worked at Millen Motorsports during the 323GTX Asian Pacific Rim championship years and knows the cars inside out. Local specialty brewer Craftsman Brewer also provides needed supplies.
Am I excited!?! Look for results throughout the rest of the season. My plans for 1999 include a campaign that stretches north from LA up to Washington state. From there, a National campaign is a further goal.
Paul's sponsors include:
King Dragon - Clothing, Performance Parts, Accessories
Road Race Engineering - Fabrication, Service, Reconstruction
Craftsman Brewery - Beverages and Welding Support
Paul can be contacted at:
Home Phone: 626-791-9049
Fax: 818-393-6951
E-mail: ptimmerm@mashtun.jpl.nasa.gov
---
Teams Index
RRN Index