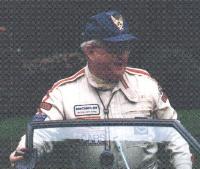 Biography
Richard M. "Dick" Casey
FAIRFAX STATION, VIRGINIA

Date of Birth: 10 November 1939
Place of Birth: Montpelier, VT
---
Originally from the great rally state of Vermont, Dick Casey has always been an autosports enthusiast. He entered his first special stage rally in Germany in 1974 as a co-driver in a Mini Cooper in the Rallye Trefels.
From 1982 to 1995 he competed as a driver in SCCA's Production Class, first in a 1982 Ford Escort GT, and later in a 1987 Volkswagen GTI. Martin Dapot was his co-driver for most of those rally years. After selling the GTI in 1995, he switched to become a co-driver and campaigned sucessfully with Canadian Peter Watt to win their class in the North American Rally Cup from 1995-97.
Dick Casey will co-drive with Carlos Arrieta, Sr. in the Audi Quattro at the Rallye Auto Charlevoix (RAC) in late October '98. He then plans to run the entire 1999 season as the co-driver in a Group 5 SAAB 900 Turbo driven by Carlos Arieta, Jr.
Dick is a retired Air Force officer who has traveled extensively throughout the world. At one time he was on the faculty of the Air Force Academy. He and his wife, Marjorie, reside in Fairfax Station, VA, just west of Washington, DC.
Dick can be reached at: RichardKC@aol.com
For more info on Arrieta MotorSports visit their website.
© copyright 1998 Arrieta MotorSports
---
Teams Index
RRN Index