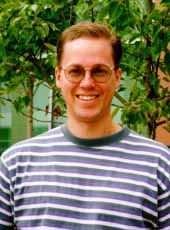 Biography Scott Huhn, Co-Driver
Primitive Racing
Seattle, Washington
---
I started in ProRally in 1996 co-driving for John Lane in a 1976 Group 5 Volvo 262. I competed in only the last event of the season and finished 16th in the NORPAC O2 Co-driver Championship. 1997 brought my first full season of ProRally co-driving, and the first of three years with Fast Lane Racing. Beginners luck saw no DNFs for the team and I received the NWR Class 3, and NORPAC O2 Co-drivers Championships. I also finished 3rd in SuperD West. 1998 was not quite as stellar due to a big off at Wild West, but my season ended with a 5th in NWR Class 1 and 4th in NORPAC Group 5. For 1999 car development brought extreme highs and lows. The Volvo, now with over 600 horsepower, helped me to win first overall co-driver for the Doo Wop Series (the NW Region's most coveted award). However, broken spindles and transmissions also brought two DNFs and one DNS. By seasons end, I was still able to finish 4th in NWR Class 1 and tied for 4th in NORPAC Group 5.
Now it's 2000 and I am looking forward to competing for the SCCA Open Class ProRally Championship and the North American Rally Cup with Paul Eklund and Primitive Racing. I have already spent some time working on the car in preparation for the season which includes 6 SCCA National events and 2 Canadian events. See you at Oregon Trail!
Scott, 33, is manager of the RF Engineering Department at Metawave Communications Corporation. His hobbies include both stage and TSD rallying, mountain biking and collecting die-cast cars.
---
Teams Index
RRN Index