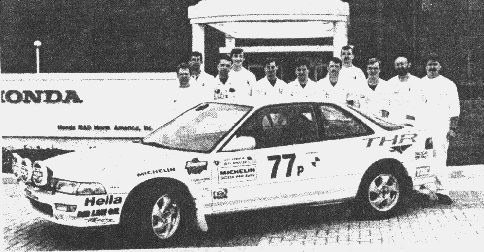 Before-This is Jay Kowalik's Acura before STPR. That's Jay on the right.
Because of a mishap at that event, Jay and his team have decided that the
car was not repairable, and is in the process of building a new 1996 Honda
Civic EX Sedan. Jay works for Honda R & D in Raymond, OH. The team is
supported in-part by Honda. See the accompanying story on the Team, their
experiences at STPR and their plans for the future.
---
Team Honda Research Recounts STPR Experience
---
By Jay Kowalik
Raymond, OH. - The team went to STPR with plenty of enthusiasm after winning the Ski Sawmill Rally just a few weeks ago, and having the Integra virtually completed. Five team members (Mike Grumbles-Crew Chief, Carl Lindquist. Jeff Ertz, Phil Williams, and Brian Shanfeld) joined Jeff Wheeler and myself to crew and spectate.

STPR is considered the premiere event in the US, which was evident by the huge field of 58 cars. It is also a rather long one day event with 344 total miles, 144 of those being 13 special stages. The race would start at 11:00a.m. Saturday and end about 2:00a.m. Sunday. There were 7 cars in Production class made up of 2 Honda Prelude VTECs, 1 driven by Jim Anderson of Honda Power Equipment Inc., a Kia Sephia. Suzuki Swift, Ford Escort GT, and a Dodge D5O pick-up. in addition to our Integra GSR. The weather was sunny and in the upper 70's all weekend, which caused dusty conditions on the very bard packcd dint and gravel roads,

The team was often told the Integra looked "cool" and well prepared, and it was a good feeling for us to see it was one of the crowd favorites with continuous gawkers asking questions, taking pictures and complimenting us during the Parc Ferme (show time before the start) at the `Green' in downtown Wellsboro. Several children asked if they could sit in the car, and the team had a lot of fun listening to and answering their questions

Jeff and I were 38th on the starting grid which meant our nose hairs would be very busy grabbing dust all day Just after leaving we noticed the calibration factors in our Terratrip computer were slow, meaning we were getting there before the computer, Causing us to miss one turn on a transit and eventually an off course excursion in the 4th stage We able to get back on course with the help of a lot of spectators. There were several other cars that had day ending excursions in the 1st few stages which caused a lot of delays for the back of field. Jeff got the calibration dialed in on the fly and we were the fastest Production car in stages 5,6 and 7 by over 1 minute total. Unfortunately, we were about 13 penalty minutes behind due to our early problems. Then came stage 8.

This was the same as stage 5, so we had some familiarity of the road, and the groove was well worn. We ran 10.5 mile of the 11.08 mile stage in normal fashion with Jeff about to call out the final instruction before the finish as we were going through a right hand sweeper. At 100Km/H it took about 1 second for the back end of the car to come around left, slam a tree with the left rear quarter, and sling-shot the front left into another tree. Jeff and I surprisingly calm, collected, and without injury climbed out of our extensively damaged Integra. Jeff immediately went to get the hazard triangles to lay on the road.

The left front wheel shows the cause for our demise. Amazingly. there is gravel wedged between the rim lip and the tire bead for about 1/5 of the circumference of the wheel yet the Michelin holds 32 p.s.i. I interpret this as the wheel getting hooked in a rut, causing the rear to come around left so suddenly I could not collect it in such a tight area.

Today the body shop confirmed what we already expected. Our beautifully prepared, very fast Integra is ready for the bone yard, unless we have a wheelbarrow of cash and 2 months to wait. We are 0 for 2, but have renewed optimism after getting team consensus to build a `96 Civic EX Sedan we previously acquired. The team will now spend our 2 month hiatus before the Maine Summer Rally preparing our own car. This car is guaranteed to be an even better prepared Production Class ear, and a crowd favorite! More details are forthcoming soon!

To the Team and our Sponsors; I'm Sorry the car is wadded after only 2.8 events.

Unfortunately, we learned too quickly the true meaning of `Thats Rallyin'. At this point, our goal is to be at the next National Event the Maine Summer Rally, with the car that THR built!

* Reprinted from "Fast Foward Vol. 1 num. 2" Published by Ken Beard*
---
NewsStand
RRN Index