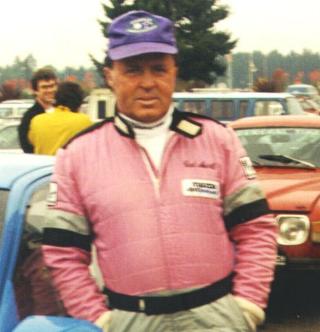 Biography Carl Merrill
1936-1998
OGUNQUIT, MAINE
For additional Information read:



1991 Coachman Stages PRO Rally - Diane Houseal Photo
---

1993 - Started with new Ford Escort Cosworth, crashed at Pike's Peak,
       but won four rallies (2 US and 2 Canadian) in replacement;
       1993 North American Rally Champion.
1995 - Won Maine Summer Rally and Ojibwe Forests event; lost chance for
       title when blew head gasket at Lake Superior while leading.
1996 - Won twice at Olympia Washington; 2nd twice by total of 10 sec.
       1996 North American Rally Champion.
1997 - Won Rocky Mountain Rally (Canadian); won Susquehannock Trail PRO Rally.
1998 - Turbo problems caused 4th place finish at Doo Wops; nagging problems 
       meant 4th at Wild West and third at Rim. 2nd at STPR; DNF in Maine
       and Minn. (driveshaft). North American Rally Champion (posthumously).

---
Merrill, a resort owner in the Maine coastal town of Ogunquit, has been involved with motorsports since 1979, mostly as a modified and NASCAR Nort sponsor and team owner. Although his teams had many successes over 12 years on the American Canadian Tour circuit, Merrill wanted to be a driver more than a sponsor, so he turned to PRO Rally.
He started in 1989, driving a Mazda 323GTX with Diane Houseal as co-driver. In 1990 and the first half of 1991, Merrill had Mazda 323 GTX rally cars in the Production GT Class before switching to a new, 300 horsepower, Open Class Mitsubishi Eclipse in July, 1991. He debuted the new car at the Mt. Washington Hillclimb, finishing sixth overall. After an overheating problem spoiled the American PRO Rally debut of the car at Bemidji, MN, he scored several top five finishes late in the season to secure fourth place Overall and third place in the Open Class for the 1991 Subaru PRO Rally Championship.
Merrill and co-driver Jon Wickens finished third Overall in the 1992 season opener at Big Bend Bash, but mechanical bugs at Prescott, Rim, Ojibwe, POR and Westcliffe lead to a disappointing season, especially since Carl was running in the top five when most of them occurred. A second overall in the final event in Maine gave Merrill 6th place overall in the '92 standings.
For '93, Merrill once again turned to Libra Racing to build him a new car - this time a Ford Escort Cosworth. Potentially the most powerful car on the circuit, Merrill hoped the extra power and his increased experience would lead to his first U.S. rally win. In the car's debut at Olympia,Washington, Merrill showed he was a force to contend with as he won 7 of the 15 stages enroute to a fine second place overall. At Rim of the World, he dropped out early in the event with overheating problems, while electrical failure sidelined his efforts at STPR.
This Ford Escort Cosworth's short rally history in the U.S. came to an end on July 4, 1993, however, as Merrill plunged off a cliff during the running of the Pike's Peak Hillclimb. Although Merrill suffered only cuts and bruises, the car was destroyed.
He replaced his old Cosworth with a new one, and Merrill came back to win his first PRO Rally events ever, including a one-minute victory over Chad DiMarco at Westcliffe and a three-minute win over Doug Shepherd at POR. Merrill finished second in the Open class and third overall in the '93 point standings. By virtue of his top finishes in both the U.S. and Canada, Merrill and Wickens also earned the 1993 North American Rally Championship.
1994 was a mixed blessing for Merrill. He had a second-place finish to his credit at the opening round of the SCCA/Michelin PRO Rally series in South Carolina, but his journey at the Wild West PRO Rally in Olympia, Washington, was another matter. Merrill was poised in second place late in the event when Paul Choiniere rolled his Audi, and Carl found himself in front with an apparent victory. But a loose turbo hose forced him to make up some time on the transit road going into the last stage, and his extra speed led to disqualification.
Merrill regained some of his points stature back with a fine third-place performance at Rim of the World, in Palmdale, Calif., where he also won several stages outright, and was also third at STPR in Pennsylvania.
A DNF after an off-road excursion at the Maine Forest Summer Rally and a second place finish after a good battle with Choiniere at Ojibwe left Merrill in third place overall after eight events.
Also at Ojibwe, Merrill replaced Jon Wickens with veteran Canadian co-driver John Bellefleur, who has ridden in the navigator's seat with such luminaries as John Buffum and Rod Millen. Merrill/Bellefleur won their first event together in Canada, but, after the Ojibwe second place, suffered a first stage DNF crash at the Sunriser 400 Forest Rally. A third place at the Maine Forest Rally at the end of the season gave Merrill third in the final point standings once again.
The Escort - a brand new '95 version - was second to Peter Moodie in its Doo Wop rally debut in Washington State in March of 1995, and third to Choiniere and Henry Joy at the Wild West event in Washington. Merrill finally broke through for a win - his first in the U.S. since October, 1993 - at the Maine Forest Summer Rally in July, as his Escort outlasted a top field of Open cars. He matched his October '93 feat of two in a row by storming the field to win the Ojibwe Forests event, but a blown head gasket cost him a top finish at the Lake Superior PRO Rally in Michigan, and any chance at the season title was dashed.
Merrill lead the 1996 SCCA/Michelin PRO Rally series after three events after taking measure of the field at the Wild West PRO Rally in April. He was also second to Choiniere in South Carolina to open the season, and third to Choiniere and Henry Joy at Rim. Unfortunately, he crashed his car at a Canadian rally in late May, and was forced to borrow Choiniere's ex-championship car to run STPR, finishing fourth and falling out of the points lead. He climbed back into contention with a second-place finish in Maine, but Merrill was sure he was going to win the event after Choiniere had transmission problems, only to lose the turbo on his Escort with only one stage to go. This second place, along with a second at Ojibwe despite rolling his car, cost Carl a chance at the championship once again, although he secured second place overall for the season with a win - his third in a row in a national - through the woods of Washington State.
1997 started out on shakey ground as Merrill was a DNF after hitting a snow bank at SNO*Drift, but he came back and won the Susquehannock Trail event to stand second in the points after five events. He was second overall at Maine, but a mechanical DNF at Ojibwe and a disappointing tenth-place at Lake Superior elmininated Carl from the title chase.
The '98 season began as the '97 season ended - with bad luck - as nagging turbo problems left Merrill in fourth place at both Washington events - Wild West and Doo Wops. He was third at Rim, and second at STPR to grab the points lead, but a hard shunt with a rock pulled the driveshaft out of the transmission in Maine, and the DNF allowed Choiniere to grab the win and the points lead. Another driveshaft problem caused a Minnesota DNF.
In Prescott, Merrill suffered cardiac arrest on the first stage of the event, and was airlifted to a local hospital, where he died the next morning. Carl was 62 years old. Carl won the 1998 North American Rally Championship (posthumously).
---
Teams Index
RRN Index