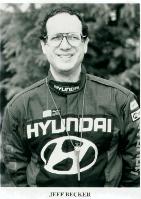 Biography Jeff Becker
GREAT NECK, NEW YORK
Co-Driver - Libra Racing Hyundai Tiberon
---
Jeff Becker began running rallies in 1968 when he and a friend entered a local TSD rally on Long Island. In 1972 Becker got his introduction to PRO rallying by working as a part of the scoring team for the World Championship Press On Regardless Rally in Michigan.
Active competition began with the first year of the SCCA PRO Rally Series in 1974. Jeff co-drove for a friend in a Datsun 510 in the Happiness Is Sunrise PRO Rally. From 1976-79 he co-drove for Australia's Graham Thompson in a Volvo 142S.
In 1980 he began his association with Bruno Kreibich when he co-drove Kreibich's Porsche 911 to first overall on the Atlantic 400, the last ever event in the NARRA rally series.
In 1982 and '83, again with Thompson, Becker ran several events in Europe for Opel Team Holland including the 1982 and '83 Rallye Monte Carlo World championship events. Becker is still today the U.S. president of the "Drivers of the Monte Carlo Rallye."
Business interests curtailed his rally efforts through most of the 1980's. He returned to active co-driving in 1989 in Kreibich's ex-works Audi Quattro.
The pair ran full seasons in 1990 and'91 nearly winning the National Championship both years. In 1991 they won the Open Class Championship and in both years they won the North American Rally Championship, a combination of U.S. and Canadian National events.
In 1992, when Kreibich opted to run a more relaxed schedule, Becker joined the Libra Racing Team co-driving for Paul Choiniere in an Audi Quattro. In 1992, '93 and '94 the team won the U.S. National Championships.
In 1995, the winning record continued. In the PRO Rally series with Choiniere behind the wheel and Becker as the co-driver the pair won five events outright in the Hyundai Elantra rally car and again claimed the National PRO Rally Drivers' Championship.
Fielding a factory-sponsored Hyundai Elantra, the team went on to win both the Co-Drivers' Championship 1996-1997 and coveted Manufacturers' Championships 1996-1999. Under the direction of Buffum, the team is campaigning an all-new Hyundai Tiberon in the 2000 season.
Jeff is an executive in the duty-free business. He lives in Great Neck, NY
---
Teams Index
RRN Index