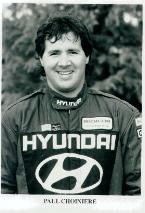 Biography Paul Choiniere
SHELBURNE, VERMONT
Libra Racing Hyundai Tiburon AWD
---
1990, '92-'97 National PRO Rally Champion.
1991 - Most stages won by a National driver; mechanical ills cost him the title.
1994 - Won 6 of 8 events entered to win the title.
1995 - Took brand new Hyundai racer to five straight wins to clinch title.
1996 - With yet another new Hyundai, won Sand Hills, Rim, STPR, Maine and Sunriser 
       enroute to fifth straight title.
1997 - Libra built a '97 Tiburon for Choiniere to go for 6th straight title. Clinched 
       title with five wins - Doo Wops, Wild West, Ojibwe Forests, Prescott Forest, 
       Lake Superior PRO Rallys.
1998 - Won Doo Wops, Wild West, Maine events; skipped Rim due to the flu; DNF STPR;
       DNF Ojibwe; suspension problems at Prescott and electrics at LSPR cost him
       shot at 7th straight title. Finished 3rd for the year.

---
Paul started driving rally cars in 1984 when he borrowed a friend's Dodge Colt and competed in one Divisional and one National PRO Rally. In 1986 and 1987, he continued his apprenticeship, competing in National events in a Production class Audi. In 1988, he won the North American Rally Championship, a series consisting of 10 events throughout Canada and the United States, in the ex-John Buffum Audi Quattro Coupe.
In 1989, he again won the North American Championship, and became the only American driver ever to win the Canadian National Rally Championship.
In 1990, he debuted a new Open Class Audi Quattro Turbo, winning the first and third events, Sunriser and Tiadaghton, and the next two rallies as well. He entered the final event with a slim four (4) point lead. His seventh place in Washington clinched the title. It was the first time in 15 years that neither Buffum nor Millen had won the United States Championship.
In 1991, Choiniere's Audi was still the fastest car on the circuit, but mechanical problems and bad luck relegated him to second overall in the series. An electrical problem at STPR, an accident at Westcliffe, and a turbo problem at POR cost him the championship, even though he won the last two events (Coachman and Maine) of the season.
Choiniere started the 1992 season with the same car and a different co-driver, but continued success from the end of the '91 season by winning the rain-shortened Big Bend Bash in Texas. Although a turbo boost hose came off four times at Rim of the World, Choiniere and co-driver Jeff Becker hung on to win that tough event. His '92 successes continued with STPR and Ojibwe wins, with Choiniere and Becker clinching the championship at the Gold Rush.
For '93, Libra Racing put Choiniere into a new Audi S2 - with his debut being a convincing victory in California in May at Rim of the World despite losing his power steering on the twistiest course on the circuit. Victories at STPR and Ojibwe set up the third place effort at Press-on-Regardless which clinched the championship after overcoming a broken strut and two off-the-road excursions. They completed their near-perfect season with a convincing season-ending win at the Maine Forest Rally in December.
Choiniere also won the '93 Mt. Washington Hillclimb in record time, shattering the old record by 20 seconds. He was nominated by the American Auto Race Writers and Broadcasters as driver of the year in his category, and finished with honorable mention behind winner Steve Kinser.
The 1994 season, second for the Audi S-2 and third for the Choiniere/Becker partnership, started off in fine fashion as the pair swept to a one-minute win on the sandy roads of Cheraw, South Carolina. After a rollover in Olympia, Washington, Choiniere and Becker reeled off wins at Rim, STPR, Maine Forest Summer Rally, Ojibwe and Sunriser to clinch their third straight title.
The pair debuted their new Hyundai Elantra at the '94 finale - the MaineForest Rally - in December, and almost won the event despite breaking a drive shaft ten miles from the end of the rally. They lost to the Sprongls by only five seconds.
At the 1995 season opener in Cheraw, South Carolina, the Hyundai performed admirably, with Choiniere/Becker beating the competition by 29 seconds despite a cracked manifold and loss of power steering. Although the margins have been closer than in past years because of the increased quality of competition, Choiniere/Becker continued to dominate the SCCA/Michelin PRO Rally series, sweeping to victories at four national events (Sunriser, WildWest, Rim of the World and STPR). Despite some late-season problems (a broken belt led to a DNF in Maine; an ignition problem put them out of the top ten at Ojibwe; and a broken connecting rod did them in at Lake Superior), a strong second at the Maine Winter rally enabled them to clinch their fourth title in a row and five in the last six years.
Choiniere also won the Mt. Washington Hill Climb in June of '94, although he did not break his '93 record.
For 1996, Choiniere and Becker got back on the winning trail with an opening-season win at Sand Hills despite their debuting yet another new car - a '96 Hyundai Elantra. At the Wild West PRO Rally in Olympia, Washington, Choiniere broke a motor mount early in the event, losing 18 minutes to the field, but battled back to finish fourth, only eight minutes behind winner Carl Merrill. The pair outlasted the field at Rim of the World to regain the series lead, and also won at STPR. They overcame a broken transmission case to limp to victory in Maine after Merrill fell short due to a blown turbo. With Becker out of commission with back problems, John Buffum has substituted in the co-driver's seat, with the pair scoring a win in Ohio and finishing a close third with clutch problems in Minnesota. He and Buffum clinched the title with a win in Michigan, and then came to the finale in Washington so Becker could clinch the co-driver title as well despite his back problems mid-season.
In early July, Paul entered the prestigious Pike's Peak Hill Climb for the first time, finishing second in the Open class to a Nissan Skyline with at least 100 hp more than his Hyundai Elantra.
For 1997, Choiniere/becker clinched their sixth straight title with five wins - Doo Wops, Little Creek Casino, Ojibwe, Prescott and Lake Superior. Early in the season, bad luck allowed both Carl Merrill and Henry Joy to score victories and keep the points chase close. Choiniere lost his suspension at Rim, resulting in a DNF, and went off the road at STPR, losing enough time to settle for second place. He was fifth at the Maine Forest event after a rollover and some minor problems. He and Becker recaptured the points lead with a win at Ojibwe after teammate and car owner John Buffum let them by after building up a 2-minute lead in last year's Elantra. At Prescott, Choiniere built a 12-second lead over Henry Joy going into the last stage when Joy went off the road, crashing his car. With a wire-to-wire win at the Lake Superior PRO Rally in October, Choiniere clinched his sixth straight national title, tying step-father John Buffum, who won six straight titles 1982 - 87.
On his second trip to Pike's Peak in 1997, Choiniere took the new Tiburon and his one year of previous experience and won the Open class, bettering his time by almost a minute.
For his efforts in 1997, Choiniere was named to the All-American Racing team (at large - second team) as voted by the Auto Race Writers and Broadcasters Association membership.
1998 has found Choiniere and Becker back in the Tiburon, and victories at the Doo Wops and Wild West in Washington state as well as the Maine Forest event put them in the lead - hot on the trail of Paul's seventh-straight national title. Choiniere was sick during the latter part of April and early May, and the flu lead to a DNS at Rim of the World. Setbacks in this up-and-down season were DNFs at STPR and Ojibwe, leaving them one point out of the lead with two events left. Those last two events were not to be lucky for the Libra team, as a 12th-place finish at Prescott (suspension problems) and a DNF at LSPR (electrics) cost Paul and Jeff a shot at PRO Rally history. Thy finished 3rd for the season.
Choiniere, 35, is a graduate of the University of Vermont, and currently resides in Shelburne, VT, with his wife Lori and four sons. He manages a import auto dealership, and enjoys a variety of sports in his limited free time.
---
Teams Index
RRN Index