Press Release
TEAM HONDA RESEARCH

---
May 11, 1998
Team Honda Researchís first PRO Rally of the 1998 season was the Rally Right XI in Morris, PA. The Rally Right XI rally is part of the Ski Sawmill PRO Rally School that took place on 1st, 2nd and 3rd of May. The school was geared toward building the basic driving and navigating skills needed to successfully compete in PRO rally.
This is Nicholas Robinson and Carl Lindquist's second SCCA PRO Rally. They last drove in Michigan last October with a fourth in class and ninth overall.
The Rally Right was a Coefficient 2 Divisional event with approximately 31 miles of special stages. The terrain was clay based, which was very slippery because of the rain that weekend.

Some of the competitors stage times are shown above. There were 42 cars entered and 20 cars in our U2 class (under 2 liter). THRís total time was only good enough for 29th overall and 13th in class, but that is with a 13-minute penalty. Looking at the individual stage times, Robinson/Lindquist could have been fourth overall and won the U2 class by nearly 2 minutes! The team is very pleased with the performance, especially considering they were faster than most of the higher horsepower 4 wheel drive cars (Honda Power!).
This was the last scheduled event for the silver 4 door Civic; it will be used as a training and back-up car from now on. It has served us well, especially last weekend.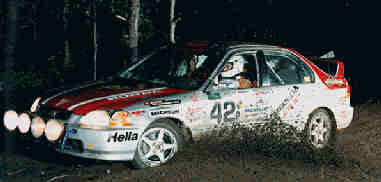 THR is excited about the next event, STPR in Wellsboro, PA on June 5th. The team will introduce two new rally cars. Jay Kowalik and Scott Embree will pilot the Production class Civic HX CVT coupe and Bryan Hourt and Jamie Detellem will pilot the Group 2 Civic coupe.
SPECIAL THANKS TO:
Lance Peterson
Honda R&D Americas, Inc.
Hella Inc.
Snap-On Tools
Transportation Research Center
Benderís Race Cars
Red Line Oil Inc.
Susquehanna Motorsports
---
| | |
| --- | --- |
| Honda R&D Americas, Inc. | 21001 State Route 739, Raymond, OH 43026 |
E-Mail: Team Honda Research
---
* Press Release Index * Teams Index * RRN Index *