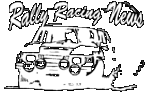 Rally Trivia
March 1998
---
Answers and Scoreboard for March 1998
---
1. Where did the 1975 H.I.S. PRO Rally start?--Olean, NY
2. Which Marque won the 1975 H.I.S. PRO Rally?--Ford
3. Where did the 1975 POR start?--Marquette, MI
4. Where did the 1975 Nor'Wester PRO Rally start?--Issaquah, WA
5. Which team won the 1975 Nor'Wester PRO Rally?--Rodgers/Rodgers
6. Where did the 1975 Sno*Drift PRO Rally start?--Grayling, MI
7. Which team won the 1975 Sno*Drift PRO Rally?--Harvey/Zitkus
8. Which PRO Rally started in Green Bay, WI on Dec. 6, 1975?--El Diablo
---
Scoreboard
 				Points
				
Name			 1/98   2/98    3/98	Total	  Date Rec.
-----------------------------------------------------------------------
Ben Bradley		 70     100     70	240	  Mar. 4
Andy English		 50	 50     60	160	  Mar. 8
Steve Gingras		 70	 10     40	120	  Mar. 5
Steve Bambach		 40	 20     50	110	  Mar. 8
Kendall Russell		 n/a     60     50	110	  Mar. 31
Scott Carlborn		 n/a	 60     n/a	 60	  Feb. 2
Oran Sands		 n/a	 60     n/a	 60	  Feb. 6
James C. Smith		 n/a	 60     n/a	 60 	  Feb. 10
George Beckerman	 n/a	 n/a    60	 60       Mar. 3
Randy Moore		 n/a	 50     10	 60	  Mar. 12
Debbi Segall		 n/a	 50     n/a	 50	  Feb. 11
Mike Mazoway		 n/a	 40     n/a	 40	  Feb. 3
Phil Barnes		 n/a	 40     n/a	 40	  Feb. 12
Brian Blizzard		 30	 n/a    n/a	 30	  Jan. 22
Anderson Harris		 30	 n/a    n/a	 30	  Jan. 30
Janet Berry		 n/a	 n/a    30	 30	  Mar. 30
Jim Culp		 n/a	 n/a    30       30       Mar. 7
Mike Friedman		 20	 n/a    n/a	 20	  Jan. 6
Dick Casey		 20	 n/a    n/a	 20	  Jan. 20
Lesley Suddard	         n/a	 20     n/a   	 20	  Feb. 23
Joe Reilly		 n/a	 n/a    20 	 20	  Mar. 1
Lincoln Woodard	  	 n/a	 n/a    20	 20	  Mar. 25
Nic Chin		 n/a	 10     n/a	 10	  Feb. 2
Topi Hynynen		 n/a	  0     n/a	  0	  Feb. 10



And the winner is: Ben Bradley
Ben tied for 1st in January, moved into a big lead in February (with the only perfect score) and put it out of reach in March with only one missed answer. Great job Ben!
Ben will receive a copy of "In Like A Lamb, Out Like A Lion, The Story Of John Buffum"
Ben has agreed to help out with some "Trivia" questions on future games, so you can cheer or curse him as you see fit.
Starting with April we are going to try a six month game cycle, the reason being to give more people a chance to win who miss one or more months. After the six month cycle I'll look at the scores and decide if we should stay at six or modify again.
Thanks to everyone who played, and if you are one of the hundreds of lookers that have yet to give it a try, now is a good time to play, even if you don't have a clue, just guess!
---
Trivia Index
Racenews Index
Rally Racing News/Rally Trivia © copyright 1997 EB Tech Services