Road rally through Arctic no joy ride!
Area drivers take a first, going back!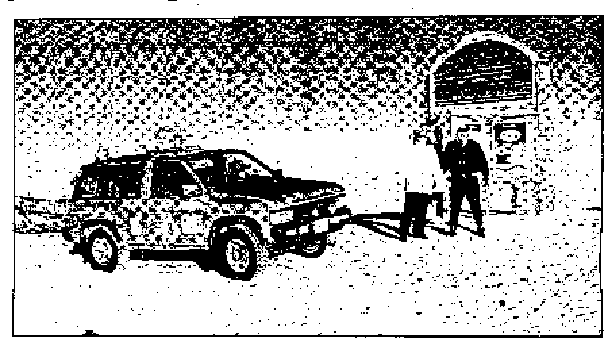 Rally driver Gary Webb of Mechanic Falls, right and his navigator Peter Schneider of Wayne, N.J., stand in minus 27 degree temperature at the Arctic Circle, pausing during a 10 day 6,000-mile road rally last month. Not pictured was tthe third member of the team, Cynthia Curtis of Paris.
Judith Meyers Photo
---
By Judith Meyer

Special to the Sun-Journal
NORWAY -- He has driven in many road rallies. She tried it for the first time this year. Roth are willing to go back to face the chal lenge of timed deadlines, check- points and frigid cold in the Arctic Circle.
That's not surprising. The team took a first place for its efforts. Gary Webb of Mechanic Fails and Cynthia Curtis of Paris were part of a three-person rally team that traveled from Seattle, Wash., to the Arttic Circle and back lost month, testing their driving and enaurance skills.
The third member of the team was Peter Schneider of Wayne, N.J, who was assigned as the navigator.
The Rally of the Lost Patrol. named in honor of four Mounties who died alter getting lost in February 1911, is a 10-day, 6,000- mile grueling drive to the Arctic Circle, pitching drivers against weather and road conditions they may never have experienced be- fore.
The team of Webb, Curtis and Schneider placed first in Class Four for trucks, meaning the team achieved a perfect time at the end of the rally.
"A rally is based on perfect time. It's not the fastest car that wins. You're supposed to arnve at spe cific times and our times were closer to perfect than the other trucks there," Webb said, based on times posted at 100 different checkpoints along the way.
In addition, the team placed third overall when points were tallied at the end of the event.
At one point during the rally, the temperature dropped to 52 de grees below zero, but drivers, nav igators and rally workers forged ahead, driving on ice-covered rivers, across parts of the frozen Arctic Sea and through twisting mountain passes that forced speeds as slow as 25 mph.
Twenty-five people piled lnto seven rally cars at the start of the race, accompanied by five cars car rying rally workers, Two contes tants turned back after entering the Yukon, afraid of diiving into the desolate and frozen Arctic Cir cle.
Webb said there are stretches of hundreds of miles along the rally route that are uninhabited, That makes it a whole different inside-your-head environment, be cause if something goes wrong it isn't like you're two to three hours away from a rescue; you re two to three days away from a rescue, he said.
The cold alone was enough to warrant special consideration for the cars, with drivers sticking magnetic heaters on oil pans, at taching heaters to transmissions and batteries: and dropping warm lights near belts to keep them from snapping overnight.
Fierce snow conditions also made driving a challenge. The main highway threading through the Northwest Territories was open for only nine days during February,Webb said. The road was closed the day be fore the rally drivers arrived and closing again an hour after the rally was finished because of high drifts and dangerous road condi tions.
Webb's team, the East Coast's sole entry, was the only one that didn't skid off the road and crash sometime during the rally. Webb said he and Schneider made al lowences when planning their dai ly route to ease up on time in the mountains and make up time on the straightaways.
When they stopped for gas paying between $3 to $5 a gallon - there may have been just seven minutes allotted for a bathroom and coffee break. That's how exacting the times had to be because the object for every team "is try to stay as close as possible to perfect time. said Webb.
Webb, who has been driving in rallies for 20 years, sponsored his own vehicle at a cost of about $10,000, Some of the cars were sponsored by automobile manu factuters, including Subaru, Izuzu and BMW,
With photographers and a tele vision crew tagging along, the en tire expedition made perfect fod der far advertising campaitna. Webb, who owns Atlantic Driv ing School, said he plans to rally again next year along with some of his students so they can make their own promotional commer cials and brochures when they re turn.
Although the whole experience was new to Curtis, she said she was willing to make the trip. again. I really learned a lot. and: there was a lot more to it than I would have thought
She found the rally drivers and navigators to be a really great bunch of people" who matched and met the Arctic's test of driving skill
---
Return to Webbsite
RRN Index