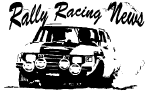 Rally Team Bio's
---
Rally Teams, if you are a competitor in North American Stage Rallies and don't have your Bio listed, you are missing a great opportunity to promote your team.

The Internet is the most powerful tool to promote ourselves and rallying that we have ever had! At no time in history has access to the world been available to us like it is today and it's time for every Rally Team to take advantage of this.

Some facts for you to consider!
In the first four years Rally Racing News was on line, almost 1,000,000 individuals visited the website (people, not hits!); that number is growing at the rate of over 400 first time visitors a day with our annual access total nearing the 5,000,000 mark! The Teams section of the website has thousands of people a day looking for information on the faceless names they see on the results and entry lists, which brings me to my next point.

To most people reading event coverage on the Web, your Team without a Bio is just a faceless name on a list. With a Bio, you become a real person and interest goes up. This is "PR 101". They have been doing the same thing for years with Baseball and Football cards. Every player has a card from the time they are a rookie. We should do the same thing. Even if you are just getting started, send a Bio and let the world know who you are!

EXCUSES!
1. I've sent Bios before and they were never seen again!
I know we have all sent Bio's before and never seen them in print. I assure you this will not happen here!

2. I don't know how to write a Bio!
We have included a Bio Form to help you with this. Check out the existing Bio's and copy the format they are using.

3. I have my own Team Web Page!
Great! Now send a short Bio with your URL and I'll link to it.

PRESS RELEASES
Send me a copy of any Press Release. I'll list them under "Team Press Releases" and link them to your Bio file!

Now it's up to you! Send your Bio or don't, your choice, but if you choose not to, don't ever let me hear you say you never get any press!

Ed Brennan
e-mail:edb@ebtec.com
Phone: 609-587-3983
FAX: 609-890-7023
---
Notice to other websites regarding use of RRN Bio's!
If you want to include Bio's on your website, please feel free to use the Rally Racing News collection.
I only have two rules of use:
1. You include all of the Bio's.
2. Send me a courtesy note telling me where you are using them and put a link to Rally Racing News on your website.
---
Bio Form
Teams Index
RRN Index